News Details
eBay Watch - Bugmen of Insecta
Multi-Toys Corp released the small Bugmen of Insecta line in 1983. While not a line that everyone has heard of, this is somewhat of a darling of the more obscure collector - or at least for the good DoctorKent! A new eBay seller seems to have access to some truly interesting carded items and has, I believe, the full line of Bugmen figures up for sale currently! Check out Black Widow, and see his
active auctions
for the rest of the line!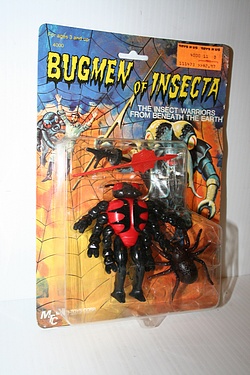 Posted by charlie on September 15th 2012, 05:43 PM
Leave Comment

Share
---
kaars
September 16th, 10:02 AM

Just found a Reveal the Shield Perceptor at a supermarket. It was the last one and the packaging had more than just some shelfwear. If your interested I can send some photo's.
doctorkent
September 16th, 11:28 AM

This guy collected EVERYTHING! I can't believe some of these auctions.
cparry
September 16th, 01:04 PM

kaars - thanks! I always enjoy your photos. I'm glad you were able to track down another piece for your collction!

Doc - simply amazing indeed. I'm just thrilled by the high-res photos of the front, and the back of the cards!
---