News Details
eBay Watch - Raw Force 35mm Trailer
A tradition that I've recently begun is the
Exhumed Films Halloween 24 hour movie marathon
in Philadelphia. The year before I started going they showed a movie called Raw Force, which DoctorKent tells me is one of the most over the top and wild films he's had the pleasure of seeing. I've still not taken the time to track down a copy and see it for myself, though I have a standing eBay search for it to constantly remind me. Today, said search turned up quite the rarity - a 35mm print of the trailer for this gem! So if you have a home projection setup, or better yet a small cinema business, you're welcome!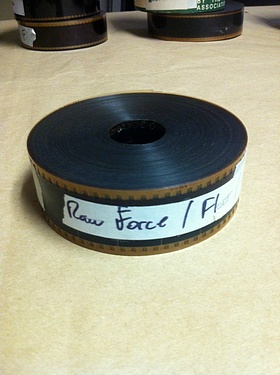 Want something game related? The same seller is offering a
35mm trailer for the Intellivision
! Actually all the trailers he has posted are insanely awesome - have a look.
Posted by charlie on September 20th 2012, 08:37 PM
Leave Comment

Share
---
Ben
September 27th, 07:35 PM

Ha! I bought a copy of Raw Force in Chicago earlier this summer. It's INSANE! There's an orgy-tastic boat party in the middle of the movie for no reason!
cparry
September 27th, 09:43 PM

I've gotta see this now. I know they won't be showing it at the Halloween Marathon, though, since they showed it once before!
---