News Details
eBay Watch - 1978 Die Cast Imperial Cruiser in Sears Box
While I've somewhat distanced myself from the ongoing line in recent years, Star Wars was certainly what started it all for myself and countless other toy fans, both serious and casual. I also was a devotee of the Sears catalog, as was my dad, so the plain brown ubiquitous packaging of their early-amazon-esque product catalog always elicits vague feelings of excitement and anticipation.
Therefore, imagine my delight at finding this auction, for a Die Cast Imperial Cruiser, still in the original Sears packaging, complete with invoice paper and ghetto white twine! It's all just a perfect package, and I'll hope against hope that whatever Sansweetish person ends up with it keeps it exactly as is, on a pedestal in the middle of their collection grotto, under a gentle spotlight, with some barely audible yacht rock playing in the background.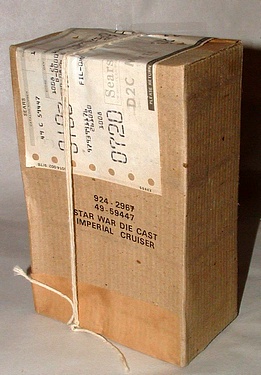 Posted by charlie on October 3rd 2012, 10:42 PM
Leave Comment

Share
---
doctorkent
October 4th, 05:06 AM

Buying it and opening it!
cparry
October 4th, 06:08 AM

Naw, you wouldn't do that to me, after that nice story. Think of the history!
doctorkent
October 4th, 08:39 PM

The value would be history once I OPEN IT.
cparry
October 4th, 08:41 PM

Ended at $370.25 - enjoy! :-)
---