News Details
botcon 2
An excellent and unannounced attraction at Botcon was a 1:1, actual size, badass Optimus Prime semi truck, flames and all!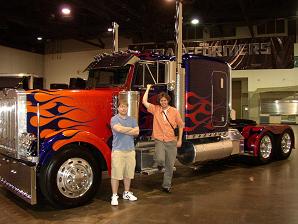 It was parked in a cavernous room, clearly the location of many auto-shows past, sharing the space only with the Hasbro Store booth which was selling "Pepsi Optimus Prime" figures hand over fist, and also another equally ridiculously large black truck, looking like Outlaw from MASK. Apparently that jet black big rig was meant to be a 'Sector 7' vehicle, that being the 'bad guy' government group in the new movie.
Posted by charlie on July 3rd 2007
Leave Comment

Share
---
thechase
July 3rd

But does it transform?
cparry
July 4th

Maybe by Botcon 2015 - I mean, we're supposed to have hoverboards by then, right?
---