News Details
G.I. Joe - Pursuit of Cobra - H.I.S.S. Attack Scout
As we've seen for the past several years, Hasbro continues to find commercial release for the tail end of their lines through discount outlets. This time, finally, the store carrying these items actually exists in my town - though only opened a few months ago! I was able to pick up the 3rd and final wave of Alpha vehicles from the
Pursuit of Cobra
line at Ollie's Bargain Outlet - what exciting finds! Click the image below for some more angles on the H.I.S.S. and I'll get the Cycle posted soon.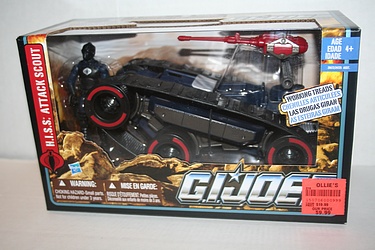 Posted by charlie on November 7th 2012, 08:04 PM
Leave Comment

Share
---
kaars
November 8th, 02:54 AM

I sometimes have those moments as well, when I find something in a small, forgoten shop. Lately its been low on transformers at the local stores. I haven't even seen anything frome GI Joe.
cparry
November 8th, 09:07 AM

I hope that you have good luck finding the new Transformers you're looking for - I know it's always a challenge!
kaars
November 12th, 09:40 AM

What a coincidence, just found the complete 'Reveal the Shield' wave 5 at a discount store today. I'll send the photo's.
cparry
November 12th, 07:36 PM

Cool! I'll look forward to seeing those :-)
---