News Details
eBay Watch - VictorMaxx Stuntmaster
Released around 1991, this was the first really viable, affordable, commercially available home VR system one could buy. I remember when these came out, and it's great that they were even targeted for use specifically with the Sega Genesis and the Super Nintendo. Having never used one, I can't really comment on their quality first hand, but the
wiki entry
would lead me to believe that, while suffering from low res due to the state of consumer electronics, it worked pretty well for what it was trying to accomplish.
Now, granted, the auction I'm highlighting is way too high, even though it's a sealed example, and I was delighted to see that loose and boxed examples of this headset are going for quite the reasonable prices on the eBay (in the neighborhood of $40-$60 for a boxed one!) - so it may be time for me to pick one up. Only had to wait 21 years...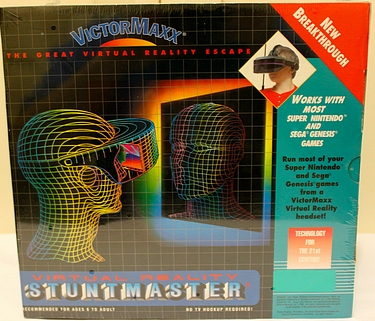 Posted by charlie on November 21st 2012, 10:22 PM
Leave Comment

Share
---
No comments have been posted.
---