News Details
eBay Watch - Bill and Ted and Phone Booth
It always makes my day when an auction pops up featuring not only complete, vibrant examples of both Bill and Ted, but the harder to find phone booth accessory as well. It just seems fitting, and is becoming a pairing that is in some amount of demand these days! Well, this seller even does us one better, and throws in the tux-wearing double pack as a big cherry on top. The toy sales on eBay have really been spiking now that we're a month away from Christmas, and it'll be fun to see how this one does, from such humble-y priced beginnings!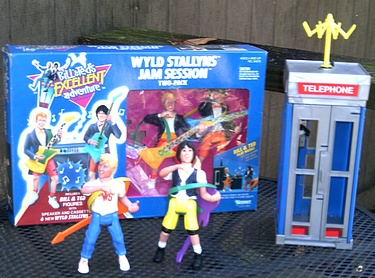 Posted by charlie on November 28th 2012, 08:13 PM
Leave Comment

Share
---
Ben
December 8th, 09:31 PM

This lot went for less than I had expected. The Wyld Stalyns Jam Session set really isn't that hard to find, but the phone booth is. All I know is that I found a sealed example at a flea market about 8 years ago for five bucks and it was a no-brainer purchase for me.
cparry
December 9th, 09:32 AM

That really is a great price for this lot - less than what the phonebooth alone almost always goes for.
---