News Details
eBay Watch - Tremors 4 Props
My standing search for Tremors memorabilia only very rarely turns up the sought after gems of Burt Gummer wardrobe, but periodically also highlights a fun movie prop. Today, we have some miniatures that were used for some key excellent scenes in Tremors 4 (which I maintain was the second strongest movie in the series, and made with love!)
We get the 'cigar store Indian' that is eaten then spit out by the graboid, as well as mini lanterns and saddle that were also used in the scene. These would go great with my screen warn Christopher Lloyd boots from the Sci-Fi show...somehow!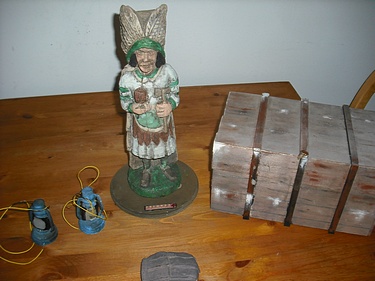 Posted by charlie on January 8th 2013, 05:55 PM
Leave Comment

Share
---
No comments have been posted.
---