News Details
Toy Catalog - 1976 Little Tikes
If you're old like me, you'll probably recognize some of the large plastic playsets in this short but mightily vintage 1976 Little Tikes catalog. Granted, such kid-sized plastic vehicles are still a staple of backyards and driveways across America, but you gotta love the early styling of these sets in the '70s.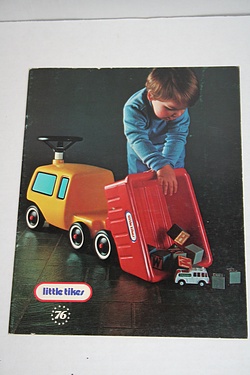 As usual, there's more than one little awesome thing about the catalog that is simply joyful - the one I'll highlight here is the vibrant yellow disembodied Grimmace head, apparently named Tipples, since I suspect it would weeble when you wobbled. That thing is awesome - and kind of terrifying.
Posted by charlie on January 12th 2013, 07:07 PM
Leave Comment

Share
---
No comments have been posted.
---