News Details
eBay Watch - 1987 Bandai Dealer Catalog
Here is a beautiful 1987 Bandai dealer catalog, which I am unlikely to win but at least the seller took a few wonderful pictures of the interior pages for us all to enjoy. This, and a few other neat old books are offered by the same seller, way far away in Switzerland for nosebleed shipping, so this may be the last we see of this book!
Be sure to check out their auction for the interior pics, and bid away if you're feeling flush!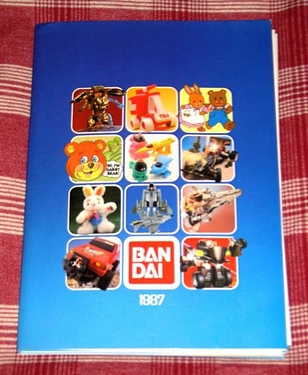 Posted by charlie on January 28th 2013, 11:54 AM
Leave Comment

Share
---
Ben
January 28th, 07:57 PM

Um...holy crap. I knew about the first unproduced Rock Lords playset...but there was a SECOND one?!? This is definitely getting a watch.
cparry
January 29th, 07:35 AM

Yeah, isn't that something?
Let me know if you plan on bidding - no sense competing with each other!
doctorkent
January 29th, 11:07 AM

Rock Lords with new info - in 2013? Madness.
cparry
January 29th, 11:34 AM

I know - right? I'm kinda thinking that one of us has to buy this catalog...let's make a plan.
Ben
January 29th, 03:02 PM

Go for it, Charlie!
Ben
February 4th, 03:22 PM

So...??? Did you get it???
cparry
February 4th, 08:14 PM

Sorry guys, I blew it. Should have gone over $100US but with Toy Fair coming up that seemed tough. :-\
---