News Details
eBay Watch - Mego 2-XL Robot 8 Track Player
Here's a lovely little gem from 1978, the Mego "2-XL" 8 Track tape player, which looks like a delightfully awesome robot. I really wish that I had been old enough to get into this branch of consumer electronics, especially when they looked like this and were made by the legendary Mego folks. I was 2, just about, when this was on the market, so I guess that was a little early to pick up some Judas Priest on the 8 track deck. Ah well, I could always make up for lost time and add this little pal to the collection, or you could instead!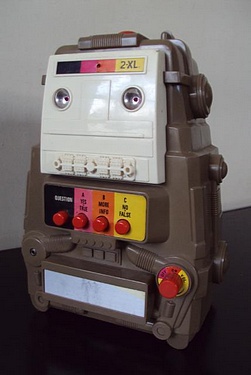 Posted by charlie on February 2nd 2013, 03:56 PM
Leave Comment

Share
---
No comments have been posted.
---