News Details
eBay Watch - Bandai Diecast Inspector Gadget Vehicles
I've never seen these before, and they are beautiful. The Gadget Mobile even, as you would hope, transforms. The auction was ended almost as soon as it appeared several days ago, so I am to assume that someone reached out to the seller and offered them a good enough best offer to yank these from the market with breathtaking speed.
I do have to recommend checking out this listing, and the very generous additional pictures that the seller snapped of these rare items.
Go go collection crown jewel!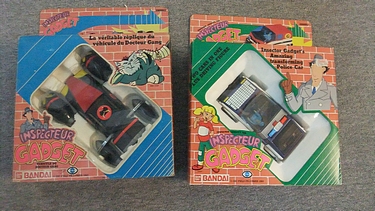 Posted by charlie on April 26th 2013, 08:54 AM
Leave Comment

Share
---
Ben
April 29th, 07:31 AM

The Gadgetmobile in particular is in my Top 5 Holy Grails of collecting of all time. It's absolutely a perfect toy and it's a shame it was never released in the U.S. At least we did get the incredible 12" figure!
cparry
April 29th, 07:34 AM

I admit this was the first I've seen of these vehicles, but was immediately won over! For a man who found a bargain basement Snarlie Narlie, I'm sure you're equal to the task of tracking this down someday.
---