News Details
TMNT - Spider Bytez
Several years ago, Playmates was in dire straits with their long running and much beloved Teenage Mutant Ninja Turtles line. After decades of success, it seemed that interest had finally waned and they had even stopped attending Toy Fair, with distribution only through Diamond Select!
But now, as if out of the blue, their new TMNT line in support of the new animated series is, for my money, the most fun thing in the action figure department this year. While other big manufacturers are scaling down articulation and re-releasing the same figures for the 100th time, we get from Playmates things like Spider Bytez here. Good job! Track this, and his wild compatriots down, if you can.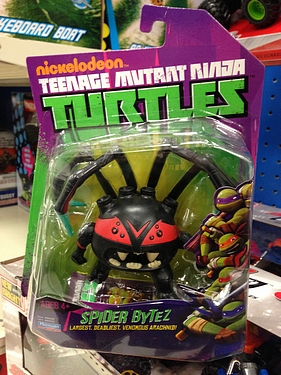 Posted by charlie on November 2nd 2013, 04:04 PM
Leave Comment

Share
---
No comments have been posted.
---