News Details
Star Wars Black - Biggs
I'm definitely a little shocked and surprised that both Hasbro and Mattel decided this year to scale back the detail and articulation on their 'basic' figures, leading to $8 offerings that have articulation straight out of 1982. Granted, I like vintage things, but not at today's prices!
Thankfully, they are at least providing an option of a more modern, detailed figure, in the form of the Star Wars Black line. I finally saw ol' Biggs chilling on the pegs, and thought he looked like a boss. These figures are $10, which makes them a pretty good deal by comparison. Try to find the set, why don't you?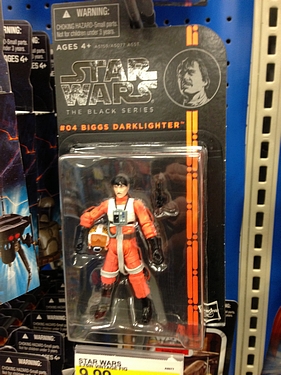 Posted by charlie on November 8th 2013, 04:09 PM
Leave Comment

Share
---
No comments have been posted.
---