News Details
willem dafoe oil painting
On the heels of the Willem Dafoe oil painting fascination, here is an Internet Aneurysm that expresses the displeasure which I also share: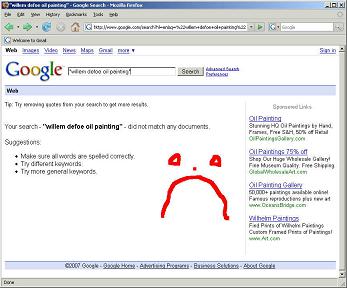 The fact that the google image search that it dispays was based on an entirely misspelled string, I feel, makes it even more amusing. I assure you that a search based on the correctly spelled name returns a similar lack of results.
Posted by charlie on July 20th 2007
Leave Comment

Share
---
jerry
July 20th

There is one now, apparently... do a search for "best actor" http://www.empireonline.com/forum/printable.asp?m=1355718&mpage=39
thechase
July 20th

You have to get on the ball here, Charlie. This is an opportunity for you to be the first hit on Google for something that occurred after 1993. You have to take advantage of being on the ground floor and improve your Google Rank on this at all costs!

Maybe this will help: Willem Dafoe Oil Painting Willem Dafoe Oil Painting Willem Dafoe Oil Painting
Heather
July 31st

I did a Google search for "Willem Dafoe oil painting" and all I got was this lousy web page.
---