News Details
ghost busters
Like an addict reaching for the goods one more time before he cleans himself up (who am I kidding) I found myself yet again at Hollywood Video to dive headlong into their VHS tape sale. This time, however, something had changed! The remaining tapes have of course all been condensed into a fraction of their former shelf-spilling glory, but there in the children's section, about 100 tapes are set up, face-first instead of crammed in back to back, and the titles were very clearly picked for awesomeness. More interesting still, is that these tapes were definitely not there on any previous visit! I suspect that someone had 'set these aside' and has now had to put them back up for sale - I even remember the day at the start of the sale when the GI Joe, Transformers and Rambo (animated!) tapes vanished, and here I have another shot! Well, I tried my best not to waste it.
As usual, with all things you have the opportunity to learn, and this was no exception! On the shelves were a good number of the
Filmation Ghostbusters
animated series, which many hate but I remember fondly, even more so now of course due to it's runner-up status! Upon returning home I did a little research, and it seems that this entire series has recently found
release
on
dvd
! What was even more astonishing, and is clearly an oversight in my understanding of the storied history of all things, and I mean *all* things Ghostbusters, is that said Filmation animated show was based on a live-action, 1975 "
The Ghost Busters
" staring two older gentlemen (stars of the 1965 series
F Troop
) and a guy in an ape suit!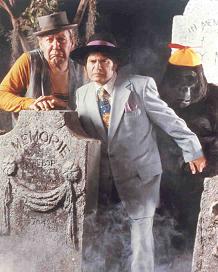 Better yet, it has recently had all 15 of it's episodes
released on dvd
as well! This was the buried treasure that I knew was there, waiting to be found, and my knowledge grew three sizes that day. Granted this new information about the possible partially derivative nature of one of my very favorite movies has shaken my world view to its very foundations, but that's good now and then.
As a footnote: I also found the mini-bio on
Bob Burns
(the 'trainer' of Tracy the Gorilla) to be very interesting.
Posted by charlie on August 3rd 2007
Leave Comment

Share
---
No comments have been posted.
---