News Details
Hollywood Haul
Though I have made some sort of vague promise to myself to try to go cold turkey on the whole Hollywood Video tape sale, it was predicated by a final large purchase a week ago or so. It seems that a box full of 35 VHS tapes from the 1980s looks something like this: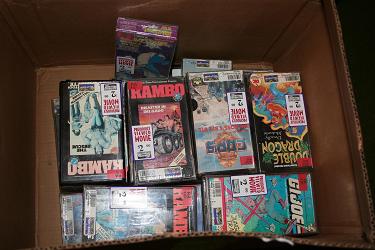 Who would have even remembered that there was an animated Rambo cartoon? Well, I sadly had not remembered, but that's the beauty of the whole thing, that now we know! I was also fortunate enough to find some old Bravestarr tapes as well as GI Joe, Double Dragon and many others which will find their second stardom on the Preserve.
Posted by charlie on August 10th 2007
Leave Comment

Share
---
No comments have been posted.
---