News Details
Kung Fu Grip 1
Welcome to day one of
Kung Fu Grip week
at the Preserve. Today we feature the Land Adventurer figure, in all his realistic bearded glory.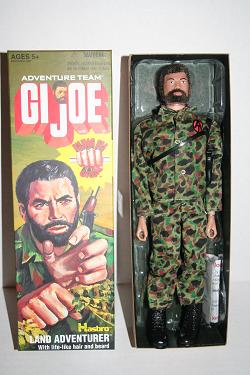 Unlike what you find on more 'modern' toys, there isn't a whole lot of text specific to each character on the box. I am not a student of figures from before 1981 in general (though original Star Wars figures certainly have a home at the Preserve) so I can't say this is in any way a general rule. For these figures, however, there is little to distinguish them save for the awesome colors of their beards, where applicable! I have tried to capture what there is on the box by way of product code, etc, for the obsessive completeist, like myself. Click on the image for the detailed page, and prepare yourself for day two!
Posted by charlie on August 21st 2007
Leave Comment

Share
---
No comments have been posted.
---