News Details
Man of action 3
While the life-like beard is awesome, I felt that it was time to take a break and feature the 'Man of Action' figure in the Kung Fu Grip series, who is one of two figures to be offered clean shaven - a stretch for the 70s. Never fear, though, he still sports the diagonal scar on his right cheek that every other figure has as well!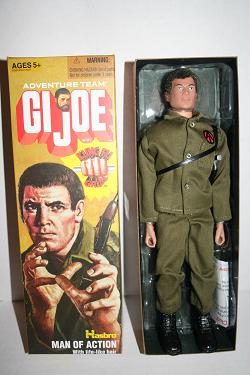 In toy news - having been unable to find any of the new wave of the
Transformers Movie Toys
in my town, I started calling further a field. In the next major town over, which is about an hours drive away, the manager of a KB Toys had told me last week that he was expecting 8, yes only 8, one case, of new Deluxe figures. I felt a little like Axel Foley getting the shipping manifest, and this dude agreed to set them aside for me. Well, this evening I went to pick them up, and now have nearly all of the deluxe figures! Interestingly, the case had been unpacked and the contents set behind the register, and when I arrived they presented me with 7 figures to choose from, and conspicuously missing was the '08 Bumblebee. Well, I guess the manager has to get his taste too!
In historical interest news, I was discussing with my father, the original inspiration and provider behind the vast majority of the Preserve, the Hasbro toy shortages. He surprised me with a story - in the '80s he had actually called Hasbro about this very same behavior of theirs! Apparently this is nothing new, and back then he was actually able to get them to admit to their strategy of manipulating shortages and supply in order to artificially boost demand! I guess old habits die hard, and since the latest toys are in many ways an homage to 20 years ago, it all makes a certain sort of sense.
Posted by charlie on August 23rd 2007
Leave Comment

Share
---
No comments have been posted.
---