News Details
Kung Fu Grip final
I have really saved the best for last, and today we finish up the
Kung Fu Grip Adventure Team
with the fifth character in the series re-release, 'GI Joe Adventurer'. From what research I've been able to do on the old line from 1976, I believe that this figure is appropriately, honestly, called 'Black Adventurer' but I guess for various reasons that wouldn't fly these days. Either way, and whatever name, here is what I feel is the most awesome character in the series, in his glory.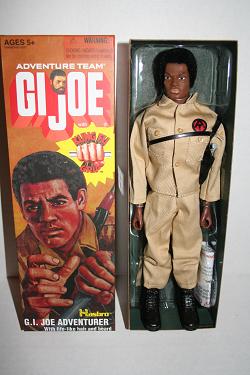 With this, the GI Joe Adventure Team with Kung Fu Grip week has come to a close at the Preserve. I hope that you enjoyed it as much as we all did! To celebrate, I suggest enjoying several of your finest beverages and chips, whatever they may be, and at least one Don "The Dragon" movie - it is the weekend afterall!
Posted by charlie on August 25th 2007
Leave Comment

Share
---
No comments have been posted.
---