News Details
KB Toys haul
After what has felt like months of constant searching, though in reality I suppose it's only a few weeks, I was finally able to track down a single solitary case of the new Transformers 2007 Movie Deluxe figures. It wasn't quite the magical and accidental find that I truly enjoy, but at a KB Toys about 30 miles from my house, the store manager told me over the phone that they were getting this single case of 8 figures in, and that he would set it aside for me. I was overjoyed, and arrived to find, mostly, this: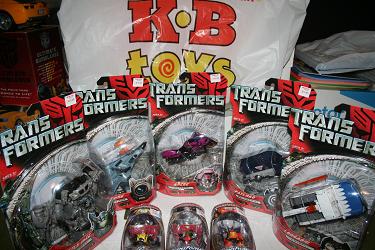 I was able to pick up Payload, Longarm, Dreadwing, Final Battle Jazz and importantly Arcee, which looks to be a great figure.
Also offered up for my inspection, as the figures had been unpacked and priced already, but were still behind the counter, were Wreckage and Brawl - seems that they pad out the case count in this particular wave. A little advanced mathematics tells you that brings the count to 7....what was missing? That's right, the '08 Bumblebee, which as of this week at least is the real 'chase' figure. I have to imagine that the manager skimmed a little off for himself, but honestly I am probably over estimating the importance that others place on these figures, when at most he'd stand to double, maaaybe triple his $10 with a lot of ebay headaches. The counter dude had a brainflash as I was describing it to him, and "just knew" he'd seen it that day, and started looking everyplace, but all for naught! Well, I am still delighted with my haul for the day, and leaving Bumblebee as a missing piece simply prolongs the exciting hunt!
Posted by charlie on August 26th 2007
Leave Comment

Share
---
No comments have been posted.
---