News Details
Gi Joe 25th pre
Welcome to another theme week here at the Preserve! This week we will be featuring the new GI Joe 25th Anniversary line that Hasbro has seen fit to grace us with. Starting a few months ago, there have been only 5 carded figures, and two 5-figure box sets released.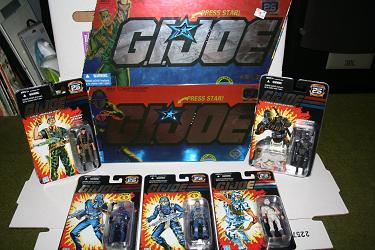 The packaging, the great art, the file card info, the silhouettes on the cardback hinting at upcoming figures in the series - it's another great job by Hasbro. I do actually hate the trap that I'm well into now about not opening figures, but honestly I think that is justified with these - they look so perfect carded, and the word on the street is that the figures, while highly articulated, very detailed, and sporting a raft of accessories, just feel somewhat lacking and are slightly larger than the 1980s counterparts, causing them not to be usable in most of the vintage vehicles. I think this is a series which, for better or worse, is best enjoyed under glass.
Posted by charlie on September 2nd 2007
Leave Comment

Share
---
No comments have been posted.
---