News Details
Gi Joe 25th Flint
We are drawing near to the end of the first wave of carded figures in the Gi Joe 25th Anniversary set. Flint is really a great example of why to leave these figures on the card: the art on this card is just amazing, and the File Card is such 'wholesome Americana' that it has to be read to be believed. The figure, after all that awesomeness, looks like it might actually be the weak link, so why seperate a perfect package? I present to you the Flint figure: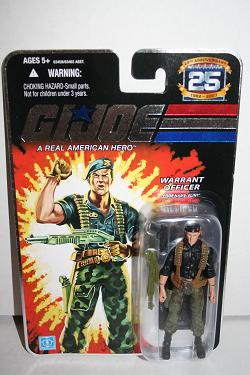 As quickly as the first glimmers of Transformers 2007 figures restock appeared on the shelves in town, they are already all but sold out. For some reason, 4 G1 Starscream repaints are still hanging out at Target, but that's down from at least 20, and I expect those to be gone in two more days. The Jazz repaints all vanished within a day, interestingly - the lower price point probably helped. Then they'll be right back to the bare shelves, really amazing!
Posted by charlie on September 6th 2007
Leave Comment

Share
---
No comments have been posted.
---