News Details
thundercracker tf2007
On the heels of Brawl, we now have a page up for Thundercracker, the Voyager Starscream repaint from the
Transformers movie 2007
line.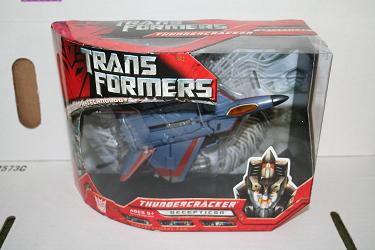 I really like the color job on this figure, and I am sure that the customizer community has already bought a spare to turn into Skywarp - almost makes me want to try out that part of the hobby to have a perfect set of the three seekers. Or, more likely, two nice looking ones and one that looks like it fell in a vat of chunky latex paint.
Posted by charlie on September 19th 2007
Leave Comment

Share
---
No comments have been posted.
---