News Details
Dino riders
Illustrating yesterday's excellent Target haul is the following: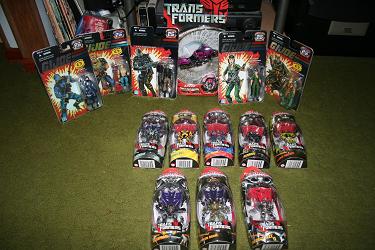 There's a bit of a cheat in the picture, as all of the 3" Titanium Movie figures are pictured, as I was in the midst of confirming that I in fact had managed to get the entire set, while only four of them were purchased in the proper haul. Of note, as a followup to yesterday's Target Watch - when I stopped by at 5:30pm after work, the remaining GI Joe 25th Anniversary figures were gone, along with all of the Deluxe Transformers figures. That is some rapid inventory turn-over, and confirms that 8:30am is the right time to see what's up.
Posted by charlie on September 28th 2007
Leave Comment

Share
---
No comments have been posted.
---