News Details
Captain Power - Blastarr
We continue the Captain Power carded figure week with Blastarr, another of Lord Dread's Warlords.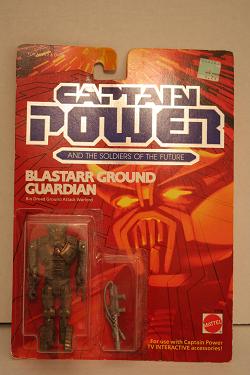 While most of the bad guy figures are some sort of 'Warlord' or another, it strikes me at this late hour that the GI Joe collector impulse to troop-build might still be pretty awesome in this line, driving one to assemble an army of Blastarrs or Tritors.
Today's Target Watch is a joyful occasion indeed, as it has amazingly turned up the final three Target Exclusive Scouts that had been missing from the nearly complete
Transformers Movie 2007
line! Last night I was astonished to, at long last, round the corner into the compacted modern day toy isle, and see the long-empty Scout pegs bursting with Elita One, Armorhide and Air Raid figures! I was decent, and followed my long standing anti-scalper anti-dealer impulses and purchased only one of each figure (three of each were available, as was dictated by the single case I'm assuming they opened, along with three each of Arcee, Clocker and Skyblast). Upon further reflection, and looking at how great the Elita One figure looks, I think that the 8am Target Run may well involve a few additional purchases. Now all that is missing are the four not-yet-released Robot Heroes packs, and the three new Deluxe figures which have been announced. So - as well as can be, the current collection is complete!
Posted by charlie on October 3rd 2007
Leave Comment

Share
---
No comments have been posted.
---