News Details
GI Joe 25th Wave 2 - Buzzer
Several weeks ago, avid readers of the Preserve may remember that we were able to secure a set of the beautiful Wave 2 GI Joe 25th Anniversary carded figures from an early morning visit to Target. As is typical of this geographic area, that is the last we've seen of those figures, but the set is here and ready to be displayed! In an effort to provide up-to-date coverage on some of the series we discuss, I wanted to waste no further time in launching into yet another theme week!
Today we begin the GI Joe 25th Anniversary Wave 2 of carded figures with Buzzer!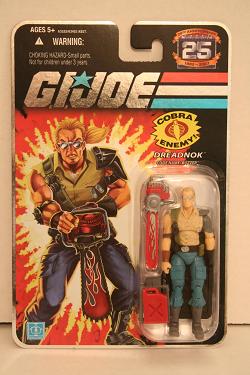 I am often happy to admit my failings or oversights in life, and this case is no exception. Having not been a careful student of bio cards for
any
series until recently, I was so delighted to familiarize myself with the bio for Buzzer! Turns out he was an 'extreme left-wing Cambridge sociology don' who basically snapped and now enjoys destroying the trappings of technological society with his diamond-toothed chainsaw...awesome!
Posted by charlie on October 8th 2007
Leave Comment

Share
---
No comments have been posted.
---