News Details
Gi Joe 25th - cobra trooper
A figure that you are sure to see very few of on the shelves, even if the distribution systems were working properly, is the Cobra Trooper: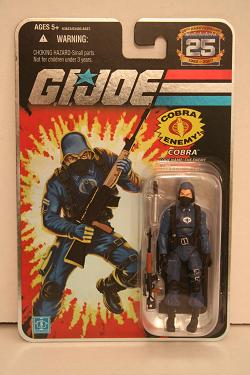 Always super popular with the army builder collectors, it just won't do to have only one of these in a proper display collection. I mean, while it's convenient for a good-guy plot device, they certainly should have more than one Trooper guarding the base!
Today's
Target Watch
finds that there are several of the
Leader Class Brawl
figures, as well as a
Leader Class Megatron
, which are surprisingly warming the shelves. Also a selection of the 3" Movie Titanium figures are to be had, while the 6" figures have been put on clearance (though only one remained at the time - Scourge - who is now long gone). A few mysterious Movie Robot Heroes showed up as well, though not the wave 2 figures that will, I am sure, prove to be elusive. Rounding out the shelves are a couple of Deluxe Class Dreadwing figures, and then the usual dusty Fast Action Battlers and TECH toys, along with that insane 'laptop' that they made for some reason. With luck, there will be a few things left when Target drops the prices, and I might be able to snag a second Brawl to open and check out.
Posted by charlie on October 10th 2007
Leave Comment

Share
---
No comments have been posted.
---