News Details
Gi Joe 25th - Serpentor
Wanting to finish the 2nd wave of GI Joe 25th Anniversary carded figures with a flourish, we complete the week with Serpentor, the biggest badass of them all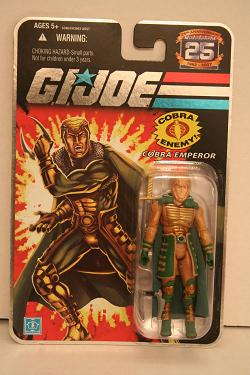 While the figure may look a little non-threatening, do not be fooled! This is one of the most powerful and sinister men to ever walk the Earth, being that he is an amalgam of the most vicious and notorious of historical figures! It's like Bill and Ted decided to make a superhuman tyrant dude, but they left out the key component of allowing him to rock a killer guitar solo. GI Joe have their hands full with Serpentor, and hopefully wave 3 sees some much needed reinforcements!
Posted by charlie on October 12th 2007
Leave Comment

Share
---
No comments have been posted.
---