News Details
Transformers movie 2007 deluxe - Longarm
It has become far past the time to play a little catch-up with the
Transformers 2007 Movie figures
, in as much as there is a complete set of the toys here at the Preserve, but very far from a complete set of them have been posted in detail. It is a big problem when trying to reference one of the figures, only to find that I hadn't gotten around to posting it yet! Well, today we start to make our inroads, and feature the Deluxe Class figure of Longarm: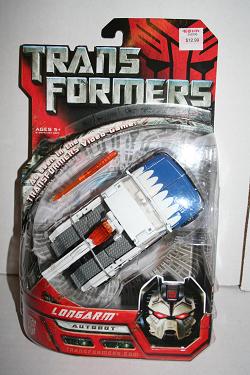 This is really a good looking figure - solid construction and good bold colors, and a really cool looking robot mode as well. Since I'm retaining some sort of aversion or fear of opening items from this set, I might pick up a spare and get some close up pics of the different modes of this figure, to either confirm or debunk my theories.
Posted by charlie on October 17th 2007
Leave Comment

Share
---
No comments have been posted.
---