News Details
Transformers Movie 2007 - Dreadwing
Today we finish up with our impromptu mini theme of Transformers Movie Deluxe toys with Dreadwing: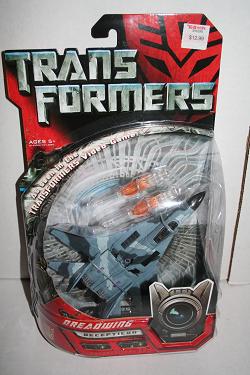 While at first I felt that they had sort of phoned in these giant-lens head sculpts, I admit that they have grown on me a little. Perhaps it's because the other head sculpts in the line are absurd and 'detailed' or perhaps it's because the lenses call up fond thoughts of big-robot series of the past, but I've reached the sort of comfortable place with them that we all should find with things some day.
In other news, this time
Pinball
related, with any luck I will be springing back to full functionality in 4 hours and driving some many miles while it is still dark in the AM of Saturday, perhaps while you are reading these very words, in order to be the early bird what gets
this worm
. In particular, a 1975 Williams Pat Hand 4-player electromechanical pinball machine, to add to the much beloved and ever growing collection, here on the Preserve! Never fear, work continues on the
Harlem Globetrotters
, and with the addition of a new bridge rectifier, a molex repair kit and several solenoid driver board resisters, I should be whistling their theme song soon!
Posted by charlie on October 20th 2007
Leave Comment

Share
---
No comments have been posted.
---