News Details
Transformers 2007 - Final Battle Jazz
I used to have a moral objection to repaints, and would generally avoid them. It is therefore a testament to the power of the
Pandora's Purchase
that not only do I now fully embrace repaints (in both the Transformers line, as well as GI Joe) but that I purchased Final Battle Jazz, which isn't even repainted!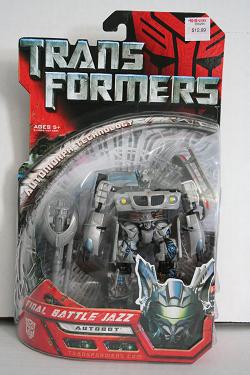 Granted they gave him a missile firing 'Crescent Cannon' this time around, and packaged him in robot form to try to make things seem different, but yeah, it's the same figure. Well, as we all know he gets made into two pieces during the CGI headache which is the final battle of the movie, so it seemed like this figure was also an important 'memorial' to that, or something. Either way, it was particularly necessary in this case because the full set of figures couldn't be left incomplete due to this one...and that thinking is the heart of the inductive proof which is the Pandora's Purchase!
Posted by charlie on October 26th 2007
Leave Comment

Share
---
No comments have been posted.
---