News Details
Toy Haul
The exciting premise of a B-Movie festival inspired me to drift farther from the ol' Homestead than I am sometimes encouraged to do, and as such I had the good (or bad, depending on perspective!) fortune of going to several stores which are in larger areas and therefore receive greater considerations from their shipping and restocking department. In particular, I have now managed to mostly fill in my Toys R Us Exclusive figures to the 2007 Transformers Movie assortment: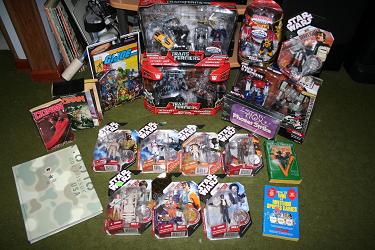 Also included in that picture are the fruits of a stop at a fantastic used book store, which also has many *many* periodical back issues, as well as a sealed 'Star Trek' Microvision cart...well, they don't have that any longer, the Preserve does. Also awesome in that set of is a 5-volume box set of original Conan novels by Robert E. Howard. When I saw the box around the five books there was no stopping what can't be stopped.
Posted by charlie on October 28th 2007
Leave Comment

Share
---
No comments have been posted.
---