News Details
Gi Joe 25th Cobra Legions
Today we have a Target Watch which is, somewhat uselessly, several days old but none the less fantastic! Dedication always pays off eventually, and I have been able to chase down one of the bright silver Cobra Legions 5-figure packs!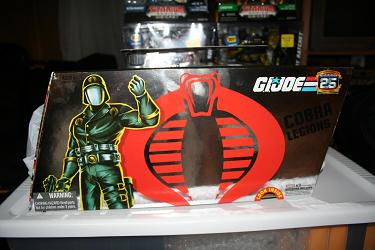 I've also, in the past few days, run across the 'variants' of the first two 5-packs but have made the difficult decision to leave them on the shelves. The variation is simply a re-arrangement of the figures in the packaging, without any actual difference in the figure themselves! Oh well, as
The Uncle
tries to remind me, you can't have everything!
Still the wave three figures remain highly elusive, but I have a feeling they'll turn up soon. I keep missing them by a day here and there - it really is amazing that Hasbro continues their practice of under-production that we saw with the Transformers movie toys. As I learned from my father, this has been their technique since at least the mid eighties, so I suspect we should all be used to it by now!
Posted by charlie on October 30th 2007
Leave Comment

Share
---
No comments have been posted.
---