News Details
McQuarrie Toy Haul
Today's early AM visit to the local Target, and therefore the daily Target Watch, yielded none of the highly sought after GI Joe 25th Anniversary figures, but did turn up the Star Wars McQuarrie Concept SnowTrooper, which is perhaps the most awesome of all the concept figures in the new 30th Anniversary line.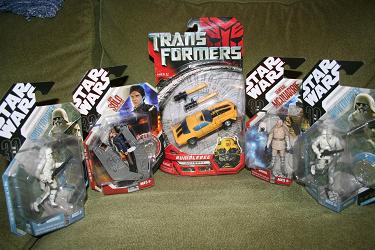 You might have noticed that there are two copies of that Concept figure in today's haul. Let me assure you that the Preserve is light years away from ever even considering 'scalpering' practices, but that the spare figure is for friend of the Preserve, The Abyss, and was purchased in a fit of delight, having never seen a number greater than one (and more often exactly equal to zero) of the Concept figures on the shelf at one time. Also in today's set is the 'torture rack' Han Solo, which was exciting to find as I have been using it as the recent example of how some of the figures in this line come with just a figure and perhaps a small accessory, while some come with an elaborate and absurd extra set of props, all for the same price across the board. Finally I could not resist the temptation to pick up a spare classic Camaro Bumblebee, as it was laid out neatly on the shelf as if for me and me alone. Now I can check out this figure and see for myself if this line has been worth all the time and effort, or at least, if this figure is any good!
Posted by charlie on November 6th 2007
Leave Comment

Share
---
No comments have been posted.
---