News Details
Toy Haul full day
After an extensive scouring of the meager offerings for toy sales in this part of the country, which will hopefully be chronicled in an upcoming uncleCast, a very successful outcome was had, as is pictured below!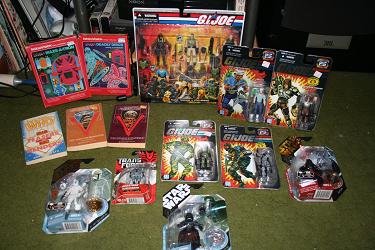 The intensely elusive GI Joe 25th Anniversary wave 3 yielded two more of it's hard to find figures, of Shipwreck and Firefly, along with the 'no color-change burst' Zartan, providing the Preserve with both variants now. A suitably eclectic and absurd set of merchandise was found on the recent excursion, including two sealed Tron Intelivision cartridges, and a few more Ultimate Galactic Hunt Star Wars figures for good measure. Now if I can just find the Red Ninja, I'll at least be ready for wave 4 of the Joes to start!
Posted by charlie on November 11th 2007
Leave Comment

Share
---
No comments have been posted.
---