News Details
Air Raid Target Exclusive
It's almost a certainty that the current push to get all the summer Transformers toys posted properly will be thwarted by the release of the new series of figures before the job is complete, but hey, it's always nice to leverage Murphy's Law. Today we have another Target Exclusive, one of the three Scout class figures released about a month ago.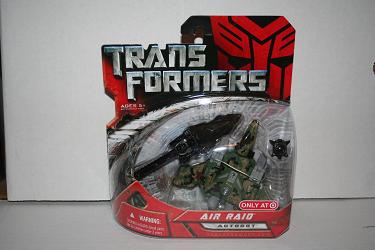 Here also is a fine
Internet Aneurysm
for you - if you enjoyed Guitar Hero, you'll certainly love Accordion Hero!
Posted by charlie on November 18th 2007
Leave Comment

Share
---
No comments have been posted.
---