News Details
Transformers 2007 Armorhide exlusive
Update:
This morning's Target Watch features 6 giant copies of the newly released
Rock Band
, which rings in at just shy of $170. This price buys you the game, a guitar, bass, full drum kit and microphone. All preliminary reports indicate that the game is fantastic, and given that the newly released Guitar Hero III cost about $100 with the game and one guitar, the price seems more than reasonable. Certainly it makes an awesome Christmas gift, as we enter that season. I have to imagine that it will be hard to keep on the shelves, and it is probably something to get sooner rather than later if you are interested. The only drawback I can see is that the xBox 360 version comes with a *wired* guitar, not wireless. It should be compatible with your other xBox 360 hardware, though, so if you purchased the new Guitar Hero III set and got the wireless Les Paul, you are all good to go. It even comes with a nice 4-port USB hub, so everyone can jack in and rock out.
Nearly finished with the Target Exclusive scout figures from the 2007 Transformers line of toys, today we feature Armorhide, another repaint from 2005's Cybertron line of figures.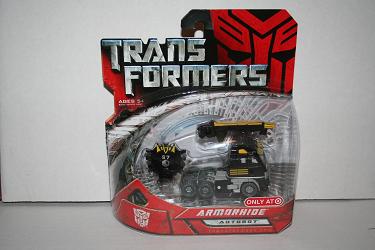 By all accounts this is an excellent figure - far greater than it might appear through the packaging. Sadly due to my latter day insistence on keeping things sealed unless the budget allows for a duplicate, I have not yet tested that assertion, though with the once hard to find wave 3 Target scouts pouring off the pegs, I predict we might see some deep price cuts on or shortly after the dreaded Black Friday which is super fast approaching.
In interesting eBay Watch news, there is a pair of carded, apparently very good condition
Jewel Lords
on the block for about another 24 hours. They're a little out of my price range already, but are a very fine set for anyone who enjoys Rock Lords as much as we all do here at the Preserve.
Posted by charlie on November 20th 2007
Leave Comment

Share
---
No comments have been posted.
---