News Details
Real Gear - meantime
Meantime is a super cool mold from Hasbro in the third wave of the Real Gear Robot line.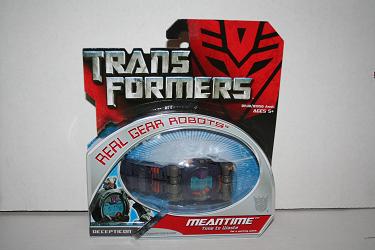 The real payoff would have been if Hasbro had made this a functional watch, and it should come as little surprise that there have been fan kit-bashes that have done just that. I believe that one of the upcoming figures in the repaint wave will be a recolor of this figure, so if the grey-blue doesn't do it for you maybe you'll have better luck in a few weeks.
Clearly this figure was designed as part of the summer product release, and this ties in with my high hopes for the franchise over the next few years. I imagine that right now Hasbro is hard at work at a blast of product like we have rarely seen before, as a result of the runaway success of the movie this past summer. I think that, given that ponderous notion, a working transforming watch may end up being the *least* of the awesome things we'll see.
Of course, all older readers of the Preserve are probably at this moment remembering fondly their old Kronoform robot watches, several of which original examples do have a permanent home in the Preserve. What's old is new again, and I predict that we'll see even more fully functional Transformers gear within the year.
Posted by charlie on December 10th 2007
Leave Comment

Share
---
No comments have been posted.
---