News Details
NightBeat 7 Real Gear
Today we finish up the most recent wave of Real Gear Robot figures with Night Beat 7. It's nice that they threw the fans yet another bone with this one, as the Nightbeat character of yore has become very popular with the fan community. Here then, is the figure, which is a nice repaint of
Booster X10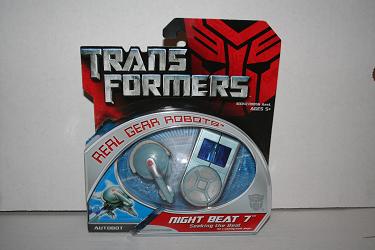 Lately I have been making my way through the fantastic Voltron dvd sets that have graced the world with their tin-pressed goodness. It's been a real treat to see these episodes again, with many of them dredging up memories from 20 years ago when I first watched them in the livingroom of a friend who lived down the street. At the time we even concocted a whole plan to construct underground tunnels with high speed trams, so as to transport ourselves between houses all Voltron Force Lion Launch style.
In watching the episodes again, I also find it particularly fun to try to determine where the show was sanitized for the American market, as I believe we've discussed before on the Preserve. The original 'Go Lion' show was clearly much more gritty and realistic - the primary example being the death of Sven and his open casket funeral vs. the 'injury' of Sven in the US! Along those same lines, this quote from Keith, right before they fought a RoBeast in the middle of one of the small villages, was great:
'Ground crew - make sure that all of the villagers are evacuated from the town'
[three seconds pass]
'good, looks like they all escaped to the hillside caves'
[proceed to level town]
Posted by charlie on December 12th 2007
Leave Comment

Share
---
change
December 20th

I got one of the PSP ones for Alex...he really digs transformers...the mechanicalness of it all...
---