News Details
star wars mcquarrie and ugh haul
Rumor has it that Hasbro is attempting to atone for the error of their ways, at least as far as Star Wars Thirtieth Anniversary figures go, and is shipping out all of the assorted waves from 2007 in large quantities for what remains of the holiday season. It is therefore perhaps less solid of a toy haul that was discovered today, during random visits to the local KMart and WalMart, but exciting none the less to find an early wave McQuarrie figure, and UGH Ceremony Luke lying on the otherwise picked over shelves.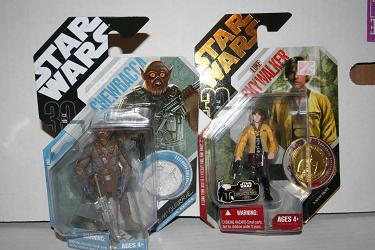 Both figures were not on pegs, but rather lying on the first shelf around waist height, and given the clearly post-holiday-frenzy shopping that had taken place in each toy isle, they were that much more of a delight to stumble upon. I almost wonder if they are the result of returns to each store, that had been carelessly returned to the toy isle by a tired and harried customer service clerk, but speculation will get us nowhere! At the very least, that brings the Preserve closer to a complete set of Ultimate Galactic Hunt and McQuarrie figures from the 2007 line. While the entire 60 figure line will not, on the urging of
The Uncle
, be added to the Preserve in an attempt to not descend down the bottomless product well that is the Star Wars universe, these sub-lines are just intriguing and slight enough that I felt it was a fair compromise.
Posted by charlie on December 13th 2007
Leave Comment

Share
---
change
December 13th

nice. i'll need to check out our local walmarts if i have the chance. some christams gifts for you upcoming. found some copies of ALF in the clearance racks today. peace.
change
December 13th

come on other readers of the preserve. post your comments. otherwise you will continue to be subject to my highly off-topic and personal comments to charlie.
---