News Details
Transformers 2007 AllSpark battle 2-packs
Another venture out into the wilds of the post-Christmas apocalypse which is shopping America has not managed to yield any of the hoped-for GI Joe two-packs at a local Toys R Us, though an unexpected find was two of the newly released
AllSpark Battle Legends class 2-packs
, and some Doctor Who for good measure.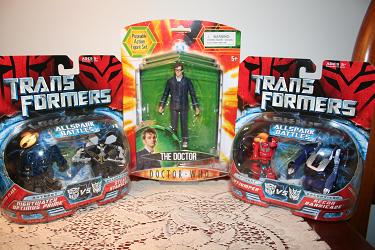 While I don't dig on the Legends class too much with respect to their design, as they strike me as little more interesting or thoughtful than many McDonalds Happy Meal toys that I've seen in my time, they do at least try to bring the big name characters to the stage at a low low price point, and stay mostly faithful to the coloration and at times even the basic transformation styles of the larger and more complex figures. Of additional interest is that these figures appear to be moderately hard to find, or at least not as readily available on the secondary market, so getting them first hand at first sight and then deciding what to do later seems the right technique. I'm also not sure I'm down with the AllSpark repaints that should be coming out soon, where they basically splash some blue paint around and call it a day, but let that time come and I'll get back to you.
Posted by charlie on December 28th 2007
Leave Comment

Share
---
change
January 5th

Wow. You are making me want to buy those Dr. Who toys now. Have you been watching Torchwood at all? Pretty cool. Dr. Who with a little sex mixed in. I think Farscape opened up that mix of SciFi and Sex.
---