News Details
Convention Page
New at the Preserve: in an effort to both keep us on track with the vast amount of cool stuff that is set to happen in 2008, and also to provide a resource to our readers, we have created what will be a constantly updated area of the site - our
Convention Page
!
Check it out for a short list of the conventions that the Preserve has attended in the past, as well as a list of cool conventions for the year to come! We can't guarantee that we'll make it to all of the future cons listed, but will try to catalog Preserve-worth events as they are discovered.
What is likely to be the final of the New England shopping outings has today again failed to find any items from the currently collected series here at the Preserve. Unfortunately, by some reckoning, several purchases were found and made which could easily be seen as being of the Pandora variety, introducing a fantastic piece from the current Doctor Who line, The Face of Boe, and an original series Battlestar Galactica Starbuck figure (made in 2005). Astute readers will also notice the bizzare 'Full Moon Fright Night' schlock horror film, hosted by Preserve favorite, William Shatner!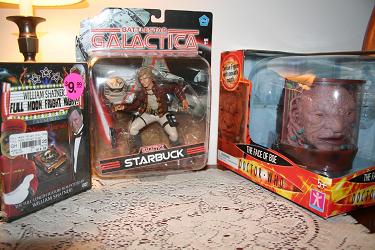 It is this sort of off-series diversification which speaks to the need for greater ability to incorporate and catalog one-off and possibly two-off items which join the Preserve, without always necessitating the development of an entire line's collection. In the mean time, enjoy the pic of Starbuck and Boe, and we'll expand out those sections shortly.
Posted by charlie on December 29th 2007
Leave Comment

Share
---
No comments have been posted.
---