News Details
AllSpark JazzCrusher
It's time to continue our reviews of the AllSpark Battles 2-packs which have recently been added to the
Transformers Movie line
of toys. Today we take a look at the Jazz vs. Bonecrusher set, from what is officially 'wave 1' of this set of figures. Click the picture for expanded info!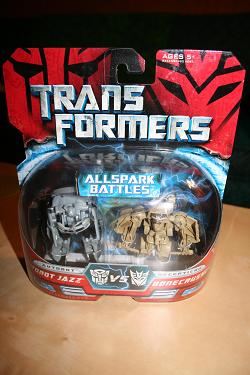 In this set we get a minor repaint of the Jazz figure, and an entirely new mold of Bonecrusher, thereby boosting the ranks of the Legends class figures which seem to be growing in popularity everyday. I also have to take this opportunity to point out something strange that Hasbro has been doing with this entire line of movie toys, and probably for the past several years. If a character has a name which is 5 characters long or less, ie. Jazz, or Brawl, their team affiliation is appended to the name to pad it out. I suspect this has some basis in the design considerations of the packaging, but I find it to be strange and awkward. Especially while reading the bios, it's funny to refer to some characters as "name" and some as "Autobot" "name". Well, maybe it just bothers me, but I think that the name Jazz could stand alone, and be plenty awesome. Scatman would have no trouble with that, I assure you.
Posted by charlie on January 5th 2008
Leave Comment

Share
---
change
January 5th

Hey Dude! Happy New Year! The RSS feed works. I looked in iTunes today and saw UncleCast 16. Nice.
cparry
January 5th

Thanks Change - happy new year!
---