News Details
Allspark 2-pack Rescuebrawl
The second AllSpark battle 2-pack for the weekend is Rescue Ratchet and Brawl. Always nice to see the G1 colors come out to play, so the Ratchet repaint is a welcome sight. Also we get a brand new mold of Brawl, growing the ranks even further.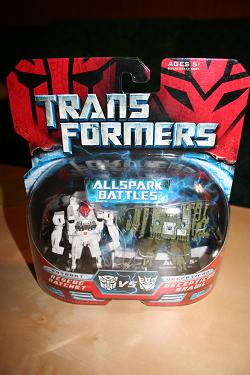 In awesome and exciting
GI Joe 25th Anniversary
news, a Christmas present from
The Uncle
has just arrived, and now every version of Stalker is a part of the Preserve! That's right, the rare yellow variant was hidden in a tattered, smashed and poorly packed box, somehow in perfect condition, which is very exciting. Pictures will be forthcoming!
Posted by charlie on January 6th 2008
Leave Comment

Share
---
No comments have been posted.
---