News Details
Toy Fair 2008!
It is with great and elated excitement that I announce the Preserve will be covering the
2008 Toy Fair
next month in New York, NY! Taking place at the Jacob Javits Center, Toy Fair is "the largest international toy trade show in the Western Hemisphere", and will this year celebrate its 105th show, by my reckoning. Over 1,500 representatives of the Toy Industry are expected to participate as exhibitors, so you can only imagine the amazing diversity and breadth of product that will be on display, and unveiled for the first time!
For more information about the show, you can click their logo which is featured at the top of the News page. The event will begin on February 17th, when we will start to cover as many details and events of the show as we possibly can. You can expect galleries of manufacturers and products, with a focus on the top secret products which will first see the light of day at this show!
As promised yesterday, so it is delivered. A number of pictures of the new, and lowest priced Indiana Jones Lego set, the Motorcycle Chase, are now available. Click through the image below for more details.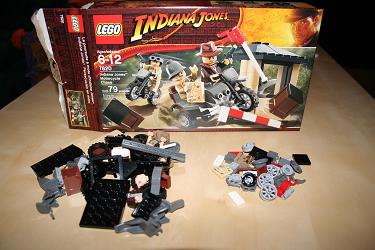 I really can't say enough good things about this set - maybe I'm just too excited about the new Indiana Jones toys and that is tainting my view, or maybe it's because I haven't had a new Lego set in years. Well, except for the Advent Calendar, which is a great thing as well. But I feel that this set is a fantastic value from a monetary and play standpoint. If you can find it in the stores, because it seems to be selling out quickly, you should pick it up!
Today we finish up with two cool links. First we have a new product that just debuted at CES:
The RetroDuo
. A newly made system which will play some of your old games; hopefully it will help some folks get more play value from their old carts without having to take a risk on an ever-more-expensive vintage system from eBay. Now, of course here at the Preserve we always support the original equipment, but at least this encourages the use of the original carts instead of an emulator, so it meets with approval!
Lastly we have a couple of beautiful
video game related cakes
, that really show you the result of care, time and dedication applied to a hobby - well done!
Posted by charlie on January 11th 2008
Leave Comment

Share
---
No comments have been posted.
---