News Details
GI Joe 25th - Yellow Stalker
The Uncle
is both an excellent collaborator on the work of the Preserve, as well as being a great friend. This past holiday season he helped to fill out the ranks of the
GI Joe 25th Anniversary
collection around these parts with the high priced, woefully unavailable, 100% scalped Yellow Camo version of
Sgt. Stalker
!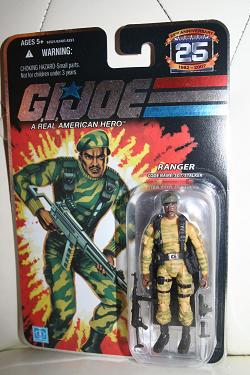 Having missed the first month or so of the release of this great line of figures in 2007, I never saw this guy in the stores. It would be interesting to know if he ever even came to my town - seems that it was released in small enough quantities to demand the huge premium for a reason, so I doubt it! The yellow is pretty cool, and while not jungle friendly, it's got the classic design featured in some of the early comics. Hasbro, with your sneaky ways, what variants will we see next!
Posted by charlie on January 15th 2008
Leave Comment

Share
---
No comments have been posted.
---