News Details
AllSpark Cliffjumper
Update:
A
new UncleCast
has been posted, check it out for the latest in GI Joe, Transformers Animated and Indiana Jones discussion and news!
Three new
Deluxe Class
Transformers have been added to the ranks of the sprawling 2007 movie line, under the new 'AllSpark' banner. Hasbro is using this sub-line as a bridge between the Movie and game related toys, to the more dedicated 2008 lines of Classics and Animated. While just a repaint of the '08 Camero Bumblebee, I've always been a sucker for Cliffjumper, so this figure was an absolute must-have.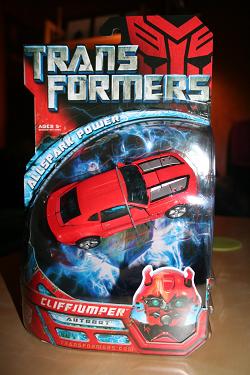 While it seems at first glance perhaps a little garish, the AllSpark blue packaging coloration is growing on me quickly. It has the rich, saturated color quality that I find to be so appealing in the very best designed products, most of which hark from the Greatest Decade. The figure will be familiar to owners of the concept Camaro Bumblebee, but the overall red repaint is well done. I find the AllSpark blue highlights on these figures to be a little less subtle and great than their packaging, but at least it's something bold and different. It appears that they've given Cliffjumper a new head sculpt, and the silver Autobot logo on his chest stands out better than the black on Bumblebee, which becomes mostly indistinct. Parts here and there, in particular on the legs, also appear to have been slightly updated for Cliffjumper, perhaps making use of the new 'Premium' mold which is supposed to be more movie accurate.
Posted by charlie on January 17th 2008
Leave Comment

Share
---
cparry
January 23rd

Man, that's a sweet figure. Now if they'd only make an AllSpark Powered Bumblejumper!
---