News Details
Gi Joe wave 4!
Holy Heavyduty Preserve readers! It is with tremendous excitement that I can now add the
GI Joe 25th Anniversary, wave 4, in it's entirety, to the archives! A few well placed phone calls, and a rare and helpful clerk led to a bit of a drive and the discovery of exactly one of each figure from this wave on the pegs! I had been concerned that wave 4, which is a straight up re-pack of most of the figures from the first two 5-packs in this series might be hard to find, as Hasbro is moving boldly on with the product releases as 2008 gets into full swing. Now the future is bright with promise of Target exclusive vehicles, comic packs wave 3 and up, and a continuing flood of carded figures! Check out the group shot below, and click to expand to better see these great figures!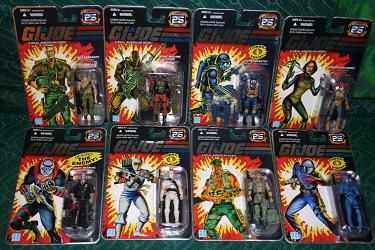 They will be individually added to the GI Joe 25th Anniversary section shortly - they are definitely worth checking out! Two of the figures have expanded blister cards - I hadn't realized that Roadblock came with such great accessories when packed in the large set. There's something clarifying about the single carded figure that I think we all know how to appreciate!
 
This evening I was fortunate enough to make the acquaintance of a like minded human, who has a seemingly vast and excellent knowledge of things from decades before, and the decades within, the focus of the Preserve. Along with being a great resource for yet another important period of toy, game and pop-culture history, he's quick with the movie quotes! The suggestion for today was to go check out the figures available at the Star Trek Experience in Las Vegas, and the Kirk and Khan pack doesn't disappoint!


Posted by charlie on January 19th 2008


Leave Comment

Share
---
No comments have been posted.
---