News Details
Star Wars 30th Anniv. Admission
A dirty little secret around the Preserve is that, as has been painfully evident through condemning photographic evidence, serious dabbling in the Star Wars 30th Anniversary toy line has been taking place. In spite of the insistence, beseeching and counsel of
The Uncle
to not get hooked by what is hands down the most bottomless chasm of unlimited product release (ie. the Star Wars toy universe), I have been unable to totally avoid this line. Of course, the Preserve is no stranger to the Star Wars franchise, having many original pieces from the early '80s Empire and Jedi lines.
While I am in agreement with him about boycotting most figures from movies 1-3 (yes, the new ones) I got sucked back in by the McQuarrie concept figures, which can't be much more original, and some of the excellent 'expanded universe' figures from this 30th Anniversary line. While the purchasing started out ostensibly as a way to help Preserve reader The Abyss build his collection, some of the cooler figures have become decidedly part of the Preserve.
Interestingly, what seems to have been the figure that was the tipping point was a very recent release, from the repaint wave no less! Finding the
Rebel Vanguard Trooper
, pictured below with the insane
R2 repaint
, which is nearly the tail end of the 30th Anniversary series, solidified my conviction that at least some of these figures, in particular this one, will need to remain in the Preserve.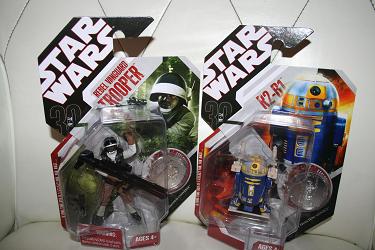 Perhaps it's the fantastic artwork of the Trooper, the great pose of the figure in the blister, the amazing Jetfire looking weapon, or the perfect overall color pallet of leather gloves, mild jungle camo shirt and pants and excellent rebel helmet - it just works. Speaking of the weapon - I hadn't seen this pictured before, and it's not in the figure preview on the cardbacks, so it was a great surprise to discover such an absurdly huge accessory with this figure. It really puts me in mind of the gun that came with the original G1 Jetfire from the Transformers universe. Sure, that gun was grey, and slightly more bulbous in places, but like the whole overall design of the figure and package, this gun is just right, and fits right in, I believe, here at the Preserve!
Posted by charlie on January 23rd 2008
Leave Comment

Share
---
No comments have been posted.
---